New Divorce Laws – ending the "blame game"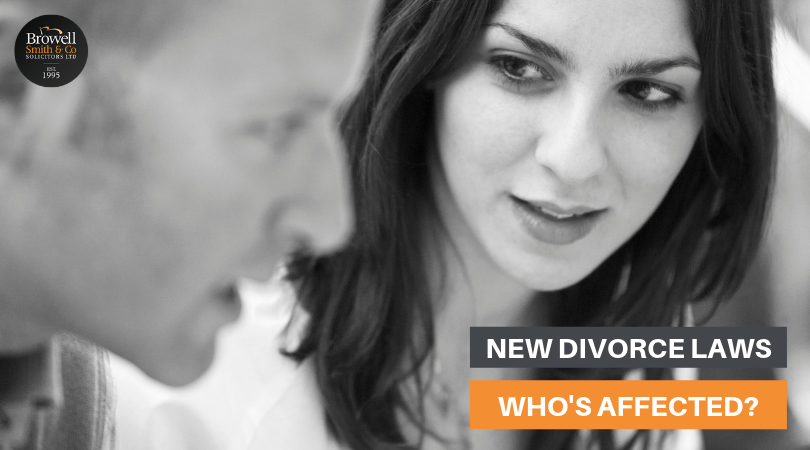 What are the new divorce laws and who will be affected?
The Government recently confirmed that it would be overhauling some of the fundamental aspects of divorce law which will, in theory, make it easier to get divorced. Browell Smith & Co's family law specialists explain what the changes will mean in practice and how they will affect people.
What are the new laws?
The laws will be changed so that 'no-fault' divorces, where nobody has to take the blame for the relationship breaking down will help reduce family conflict and hopefully will make the process easier for divorcing couples.
The aim is to help ensure that divorces create less acrimony and progress more smoothly.
The new laws will also stop one partner from refusing a divorce if the other partner wants one.
Browell Smith & Co Solicitors have welcomed the proposals which will update the current 50-year-old legislation and hopefully bring our divorce law into the 21st Century.
So, what changed?
Currently, the fastest way to get a divorce is for the both to agree the fact used for the Divorce. We have covered these in a previous blog and can be anything from adultery to simply 'unreasonable behaviour'.
These divorces can take from three to six months (depending on the court's timeframe). However, if neither side is willing to admit fault – or if the relationship has broken down without anybody doing anything specifically wrong – then it can take much longer.
'No-fault' divorces have traditionally taken a long time, with couples having to wait until they have been living apart for at least two years and provided both consent to the Divorce. If no consent is forthcoming then the person seeking a Divorce would have to wait until the couple is separated for five years.
No fault divorces under the new laws will still take a minimum of six months which will offer, in the Government's words, a period of 'meaningful reflection'.
When do the laws come in?
This hasn't been confirmed yet – the Government says it will happen as soon as there is adequate parliamentary time to push it through.
Who will be affected by the new divorce laws?
The new law will allow couples who simply don't want to be together any more the chance to move on, and start their new life, as smoothly as possible. It will get around the need to apportion blame, which in many cases is an unfair approach.
It also gives people the opportunity to leave a marriage in which they are simply unhappy and feel trapped by a partner who won't agree to a divorce.
It is also hoped that the reduced acrimony will be beneficial to everyone involved, especially any children in the family.
Are there any downsides?
People have raised concerns about the possibility of 'quick' divorces devaluing the sanctity of marriage, and it's true that it's likely the divorce rate will slightly increase. Others have said the length of time involved with the current system allows suitable 'reflection' time, as well as an opportunity to get affairs in order, including division of property and access rights to children.
At Browell Smith & Co, we believe anything that helps to make the divorce process smoother and less fraught should be welcomed. With expert help and guidance, hurdles such as child arrangements and restructuring the matrimonial finances can be negotiated smoothly.
We have blogged before about the importance of seeking early help as part of the separation process, and this advice does not change.
Contact our expert team today to arrange a no-obligation chat at any of our offices, in Newcastle, Cramlington, Ashington and Sunderland, or alternatively telephone our team directly  0191 691 3418 to discuss your particular requirements.
Back to News