Probate and estate administration: when you need a solicitor and how to choose one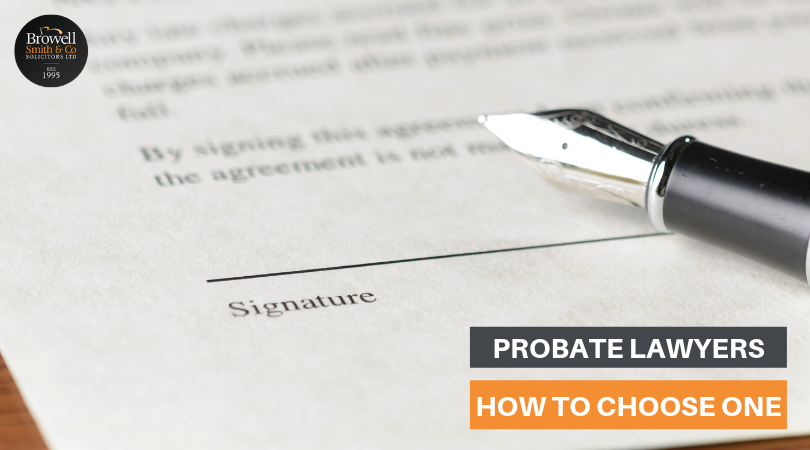 Choosing a solicitor for probate/estate administration can be difficult – there is a lot of competition on the market, and it's important to make sure you choose one that suits your needs and your budget.
In this blog we explain what probate is, the distinction between probate and estate administration, when you will need a probate solicitor, and what considerations to take into account when the time comes to select a solicitor.
What is the difference between probate and estate administration?
The terms probate and estate administration are used interchangeably, though technically there is a difference between the two.
Probate is a specific legal term that refers to the Grant of Probate, which may be required when someone passes away. Probate is required by law when the deceased has left a will and owns property worth more than £5,000, or if a financial institution requires a Grant of Probate to release funds.
People also use the term 'probate' to refer to the entire process of sorting out the property, money and other possessions of someone after they die. However, we tend to use the phrase 'estate administration' because, while not every estate will require probate, they will all require estate administration.
In either case, if you ask for a probate solicitor or an estate administration solicitor, you'll end up with the same thing!
When do you need a probate solicitor?
If you have been tasked with sorting out the affairs of a deceased friend or relative, then you will likely need the help of a probate solicitor.
It can be a complex process, and by its nature it comes at an emotional time. There are a number phases to estate administration – from identifying all the deceased's assets in the first instance, through to transferring those assets to the correct people and/or organisations at the end of the process.
However, a good probate solicitor will help you to understand what to do, keep you informed as the process unfolds, and, most importantly, help to ensure the process is fully legal and above board, with all relevant taxes paid correctly.
There are a number of circumstances that can complicate the process further, such as when:
The value of the estate is over the Inheritance Tax threshold and the estate is still earning a regular income where there are complicated taxes due.
The deceased died without a will, and it's a complicated estate to administer.
There are doubts about the validity of the will.
The deceased had dependents who were deliberately left out of the will, but who might want to make a claim on the estate.
The estate has complex arrangements, such as assets held in a trust.
The estate is bankrupt (also known as insolvent).
There are doubts that the estate is bankrupt.
The estate includes foreign property or foreign assets.
The deceased resided outside the UK for tax purposes.
If any or all of these apply then your solicitor will be able to advise and will work with you to reach a satisfactory conclusion.
How are probate fees calculated?
Usually, the first question for anyone looking for a probate solicitor is how much it will cost – and it's not always as simple as you might hope. People are often surprised by the number of different ways a solicitor can charge for probate services.
Some probate specialists and solicitors charge an hourly rate while others charge a fee that is a percentage of the value of the estate and some charge both an hourly rate and a percentage of the estate.
It is Browell Smith & Co's view that it is unfair to charge more to a client simply because an estate is worth more: this is why we do not charge a percentage of the estate value. You can read more about how we calculate and estimate our costs here.
Make sure you get a clear idea of what the process is going to cost and be sure to ask if the firm charges a percentage, as this could increase your costs significantly.
You can read more about the range of ways that Browell Smith & Co can help with all aspects of probate and estate management on this page.
Contact our expert team today to arrange a no-obligation chat at any of our offices, in Newcastle, Cramlington, Ashington and Sunderland, or alternatively by 0800 107 3000, to discuss your particular requirements.
Find Out More
Back to News