Managing mental health during a divorce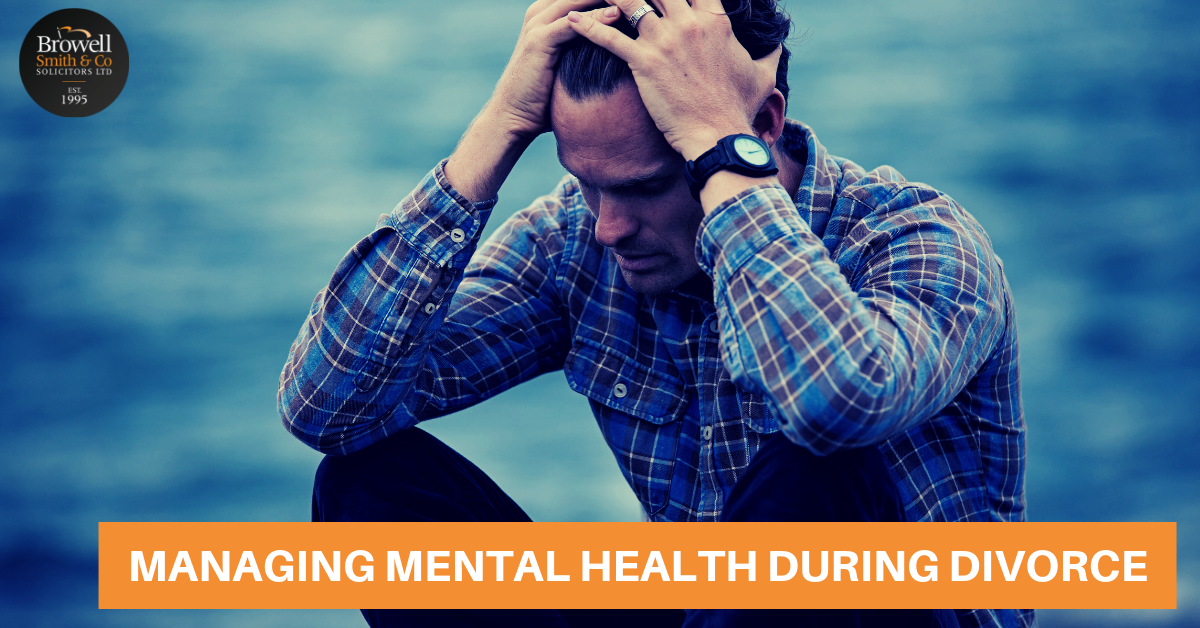 A separation or divorce places a huge amount of mental stress on everyone involved. So how can you manage the process so that it causes as little anxiety and long-term damage as possible? Heather Armstrong, divorce and family law specialist solicitor at Browell Smith & Co examines the issues.
"Going through a divorce" is widely considered to be one of life's most stressful experiences – often ranked only behind the death of a loved one for the stress it puts people through.
Yet, sadly, divorce and separations have become a fact of modern life. According to the Office of National Statistics, in 2017 alone there were 102,007 registered divorces (including both opposite-sex and same-sex marriages), a staggering figure that doesn't even include separations.
Although as a society we are becoming increasingly aware of our mental health, there is still a long way to go, and we still don't do enough to look after ourselves and each other when it comes to handling stressful events.
So what can we do to help ourselves – and those we know and love – when we or they are going through a divorce or separation? There are lots of elements to consider.
What can divorce or separation do to our mental health?
The sheer number of challenging issues that a divorce can throw up makes it incredibly stressful.
People can expect to experience overwhelming feelings that include some or all of: heartbreak, betrayal, conflict, uncertainty, managing the legal aspects, worrying about children, concern about keeping on top of their career, even the potential loss of a friendship group that might come as a result of leaving a long-term partner.
If the individuals involved don't manage their stress carefully, it can very easily lead to anxiety and depression further down the line.
Some of the following pieces of advice may be useful when going through a separation or divorce. We do understand that everyone's situation is different, but some or all of these may be useful to bear in mind.
Talk
Talking always helps. No matter how bad you're feeling, or what you're going through, find someone who is happy to lend you their ear for a cuppa and a chat!
Ask for help
Never be frightened to ask for help – even if it's for something small and apparently insignificant. People will always be happy to help. You can even ask your solicitor for advice at any point – we don't bite!
If you are really struggling, seek professional help. Speak to your GP in the first instance, and they'll be able to advise of the best course of action.
Make a plan
Work out what you want to achieve, and when you want to achieve it by. This doesn't just need to relate to the divorce – think about holidays, future events, trips, concerts, comedy shows. Make plans to visit family or friends you've perhaps not seen for a while. Your life shouldn't end just because your relationship has – don't retreat into your shell.
Accept it's ok to have different feelings
One of the hardest things to come to terms with is accepting that your feelings about your ex-partner have changed, and more importantly accepting that there is nothing wrong with that. It's part of the process; don't feel guilty about the way you unavoidably feel.
Don't feel you have to put on a brave face
You naturally want to be strong for yourself, and for your children if you have any. But being strong isn't the same as not crying, or not asking for help. Strong people know their limits and know when they need help.
Give yourself permission to take a break
Busying yourself with work might feel like it's helping, but it's also ok – and potentially very beneficial – to take a break. When you're writing your plan, make sure it's not all long-term – do some fun stuff in the near future too.
Eat well and exercise
This might seem like common sense, but it can be easy to slip into bad habits. Don't fall into the trap of relying on takeaways and ready meals; it won't help your state of mind.
Try to get out as much as possible – get some fresh air and exercise, even if you just go for a brisk walk a few times a week. Perhaps this would be a good time to get back into a sport that you've not done for a few years – join a local club and meet some new people!
Don't drink too much
Alcohol is a depressant and, if you drink too much, can lead to some poor decisions being made. By all means enjoy yourself – socialise, go out, see friends – but you'll know in yourself what your limits are and it's important not to cross them when you're going through a lot of emotional stress.
Avoid unnecessary arguments
We have touched on this in previous divorce guides, because arguing rarely helps. However, it is important to avoid arguments from a mental health perspective as well.
It's nearly impossible to emerge from an argument feeling good about yourself – even if you won! Things you said, things that were said to you, and things you should have said, will all play on your mind for hours, if not days, afterwards. Don't get drawn into arguments as they take up far too much valuable headspace.
Remember that life will get back to normal
As unlikely as it might seem right now, your life will get back to normal. If you take care of yourself and those who matter to you, if you stay calm, and do everything right, then you'll emerge stronger than ever and in a great place to move on with your life.
You can find out more about divorce services from Browell Smith & Co's family law team here.
Contact our expert team today to arrange a no-obligation chat at any of our offices, in Newcastle, Cramlington, Ashington and Sunderland, or alternatively telephone our team directly  0191 691 3418 to discuss your particular requirements.
Back to News